---
Estes Park Rotary Duck Race Virtual Festival 2020
LIVE STREAM LINK: https://youtu.be/zFNORj1tnfk
The Estes Park Rotary Duck Race will air live via Rocky Mountain Channel beginning at noon on Saturday, May 1st.
Tune in to see if your duck is a lucky one, enjoy the Pre-Flight show at 12 p.m. MST and the Race at 1 p.m. MST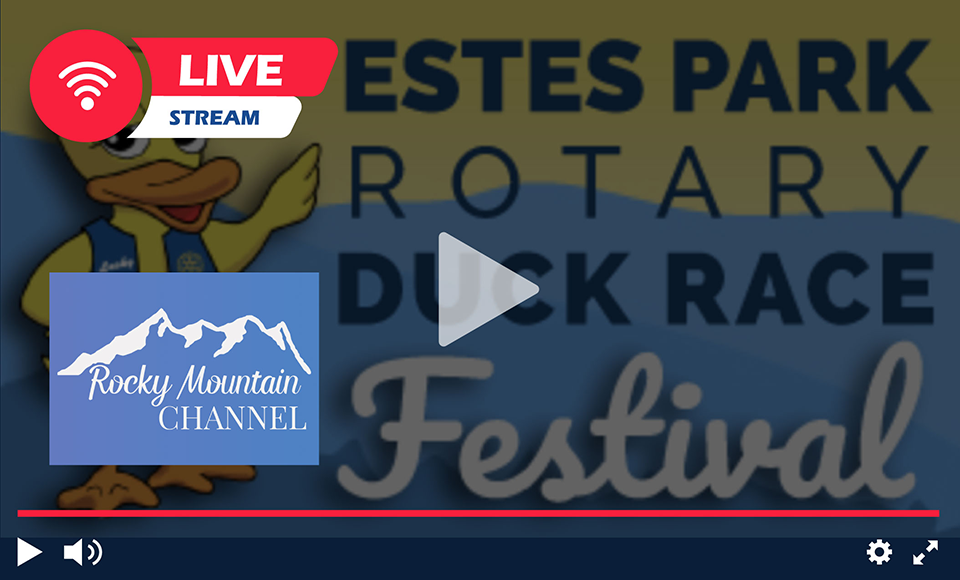 Adapting to Virtual Adopting
2021 Racing In The Lazy River!
The Estes Park Duck Race takes place this year at the Estes Valley Community Center Lazy River, not in Fall River as usual due to safety concerns for our volunteers and uncertainty on what the status of Covid-19 protection will be on race day. While not the traditional festival, there will be entertainment via YouTube, Facetime, and local television before, during, and after Race Time!
Support our local non-profits by your virtual attendance; this is not the year for thousands of people to meet in one place, even if meeting outdoors. This 2021 Duck Race will start when seven of our honorary firefighters/ first responders perform a synchronized dump of the racing ducks so each duck has an equal chance to win. As the ducks negotiate the warm waters of the Lazy River they will encounter unknow perils and hazards never found in the Fall River!! What might those perils be?
Stay tuned and watch this event unfold streaming live!! After 20 minutes, the Big Duck will open the Finish Line where the first five winners will be immediately announced. The rest of the prize winners will also be tabulated and announced once they are complete, up to 500 other prizes will be awarded.
The Duck Race has been around for 33 years and its main goal is to raise money for nonprofits in the Estes Valley. We have 65 participating organizations this year, and we think it's critical to support their work. In that spirit, we are excited to offer all online Duck Adoptions and a virtual Duck Race.
There's still time to adopt a duck to "swim" for you in the virtual Estes Park Rotary Duck Race! Every duck adopted will deliver $19 to the Participating Organization of your choice. Every duck adopted gives you a chance to win some pretty exciting prizes – hundreds of them.
Tune in at https://youtu.be/5CFE9-ttHgI beginning at 12 p.m. on Saturday, May 1st. See if your duck is a lucky one, enjoy the Pre-Flight sho, and then tune in to see you won at the Rocky Mountain Channel, or download the Rocky Mountain Channel's free app at the App Store or Google Play.
Adopt your ducks right up until noon on Race Day. Then, grab a snack, tune in, and join the fun!
Our 65 Participating Organizations thank you for your support of their work during this challenging year. We know it's going to be a great day, and we hope you will be a part of it!
See you May 1st!