Time to get quackin', race day will be here soon!
Estes Park Duck Race Festival
The annual Estes Park Duck Race has returned over $3 million to local charities and organizations!
The process is simple. You adopt a duck for $25, and $22 for every duck you adopt will benefit the charity or organization you select at the time of adoption. The more duck adoptions sold by the individual charities and organizations, the more money they can raise! Our 2022 Duck Race raised $$161,709 for our organizations!
But, that's not the end of the story! The all-volunteer Duck Race Committee has solicited financial support from Major Sponsors and Associate Sponsors. These generous sponsors help us offer fabulous Major Prizes. In addition, our local merchants provide hundreds of wonderful prizes!
Please adopt ducks and help us fundraise for our wonderful local non-profits. It's a great community event with entertainment for the entire family, so be sure to be a part of it!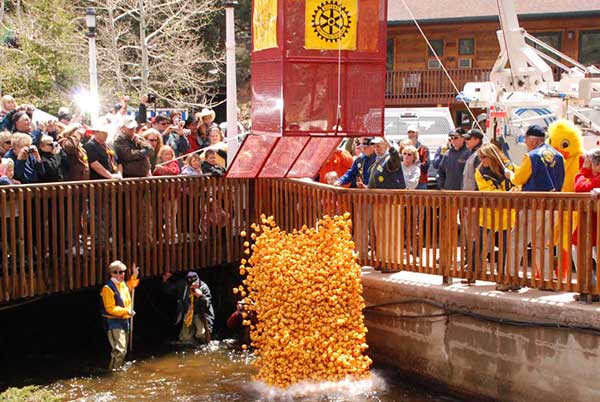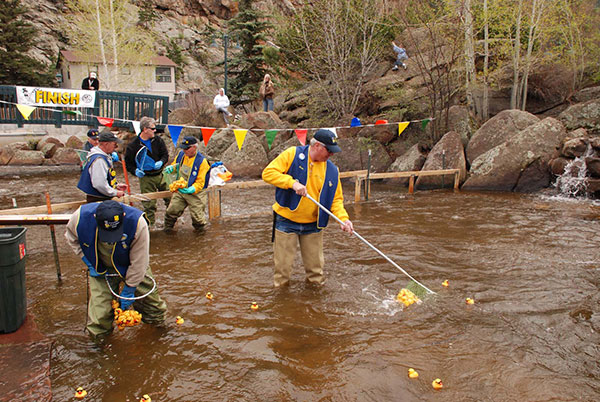 Single Ducks or Quack Packs
Choose between Single Duck Adoptions or Quack Packs!
Quack Pack includes 5 Duck Adoptions all to benefit one organization of your choice.
PLUS get a 6th Adoption (one more chance to win) FREE!
It's Duck Race Festival Time!Kickoff Night Information Quack! Yes, it's that time of year again. The Estes Park Rotary Duck Race Festival is upon us! We had a great Duck Race Festival last year, with over $162,000 distributed to worthy
Continue reading →
Dear Rotary Duck Race Festival Sponsor: Thank you so much for being a generous sponsor for last year's Rotary Duck Race Festival in which we were happy to be back in the river. Your contribution was put to good use,
Continue reading →
RECORD FUNDS RAISED AT ESTES PARK DUCK RACE FESTIVAL ESTES PARK, CO — It was a record year for the Estes Park Duck Race Festival! A record 9,643 rubber ducks were dropped into Fall River at Saturday's duck race, returning
Continue reading →
Thank You Duck Race Sponsors!
Wondering how you can be a part of this amazing cause? Check out our Get Involved page.