Estes Park Rotary Duck Race to announce new date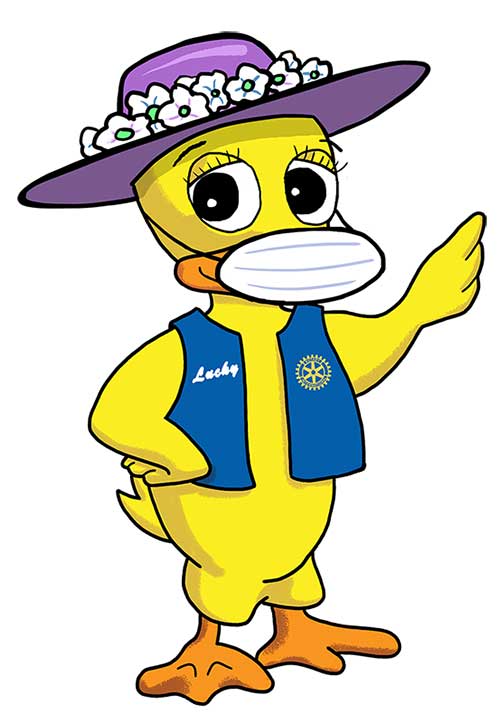 March 23, 2020
Estes Park Rotary Duck Race to announce new date
Ducks hope to race for charities in mid-August
Rita DuChateau, Rotary Club of Estes Park
Due to the COVID-19 outbreak, the Rotary Club of Estes Park has decided to postpone this year's Duck Race Festival by several months. While it's too early to announce a new date, Duck Race planners hope to stage the event later this summer, if circumstances permit. A mid-August date is under consideration. Duck adoption sales, which began in late February, will continue with paper forms and online purchases at epduckrace.org until Race Day.
"We realize this is a difficult time for everyone, and since we don't know when social distancing restrictions and mandated closures will be lifted, we decided it would be best to postpone the race and all the festivities of the day," said 2020 'Big Duck' Karen Thompson.
The committee's decision, made March 19 at an online meeting of more than two dozen members of the planning team, underscores the importance of the event to the community. Last year's Duck Race raised $128,700 for 67 community organizations. Over 6,700 ducks were adopted.
"Because this is such an important fundraiser for so many wonderful organizations in the Estes area, we didn't want to consider canceling it," Thompson explained. "At the same time, we had to keep everyone's safety at the forefront, and the only way to do that was to postpone the race."
The planning team is viewing the postponement as positively as possible under the circumstances, Thompson said. The "glass half full" approach envisions more favorable August weather, more time for participating organizations to sell duck adoptions, and more time to build excitement for a community-wide celebration of a hopeful return to normalcy. In addition, an August date may draw new spectators who have never seen a fundraising duck race.
"We hope that by holding the event when the weather is almost guaranteed to be beautiful, we'll have a great turnout for the day's festivities," Thompson added. "We look forward to running a great race and giving away hundreds of prizes donated by our very generous merchants and sponsors. Most importantly, the participating organizations will be able to raise funds in order to carry on with their good work."
More details on the Estes Park Rotary Duck Race Festival will be shared in upcoming weeks, as the committee finalizes details of the postponed event with the Town of Estes Park, partners and vendors. Thompson wants to emphasize that the decision to delay follows Rotary International's guiding principles: "Is it fair to all concerned?" and "Is it beneficial to all concerned?"
"For all that has happened in the world with COVID-19 these last several months, it was important that the Rotary Club of Estes Park stand by its beliefs and make these necessary changes with the hope that circumstances will support rescheduling," she said.
In the past 31 years, the Estes Park Duck Race has returned more than $2.7 million to Estes Valley organizations that serve residents of all ages.
The Grand Opening of Duck Central has been postponed. Participating Organizations are asked to collect and safeguard cash and checks from duck adoptions until further notice.
Questions? Email DuckCentral@EPDuckRace.org  or call 970-480-5002.
Photos:
Lucky in a breathing mask. Illustration by Tim Buck
#