Sponsors Make the Duck Race Possible!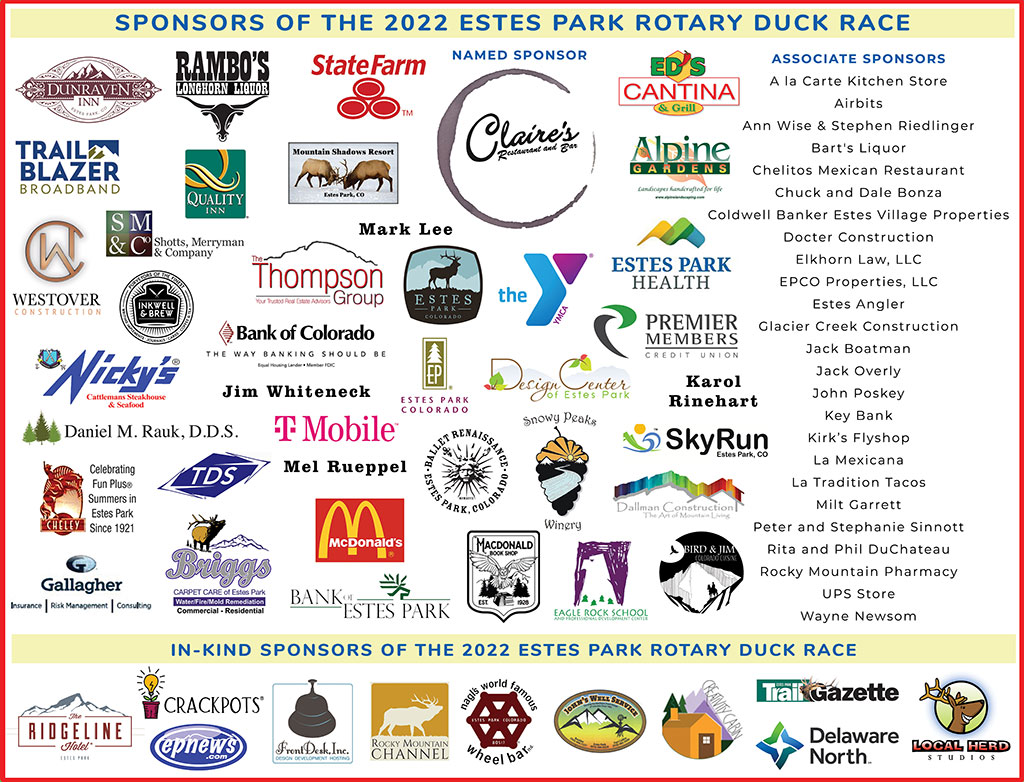 Without sponsorships, there wouldn't be an Estes Park Duck Race. Local businesses and citizen donors propel the event, supply the major prizes and help offset the costs of putting on the fundraiser that has delivered nearly $3 million to Estes Valley nonprofits and charities since its inception in 1989.
"As the Duck Race has grown, so has our list of Major and Associate sponsors as well our gratitude for their support," said Scott Thompson, this year's sponsorship coordinator. "Without their belief in our cause we wouldn't have a Duck Race."
This year for the first time ever, a Named Sponsor, Claire's Restaurant and Bar, has made a generous donation that will enable the Race to be promoted and live streamed by the Rocky Mountain Channel and Nick Molle. In turn, sponsors' contributions are announced in local media, on the Duck Race website, on the poster that advertises the Duck Race Festival, in videos on the Facebook page that promotes the event, and on The Rocky Mountain Channel on Race Day. Sponsorships are either paid or in-kind, which include donation of goods or services equal to or greater than the cash amount. If you ask sponsors why they sign on, of course, it's to support an event that this year will be raising money for 66 different charitable causes in the Estes Valley. And for Major Sponsors, it's also for the hand-decorated large yellow duck they receive to show their support. These sponsor ducks are proudly displayed after the race at places of business around the Estes Valley.
"We have been so fortunate to have the support of our sponsors," Thompson said. "Their backing has allowed us to offer large cash prizes this year of $8,000, $5,000, and $2,000 to the top three Duck Race winners, and to continue the Duck Race tradition for a 34th year."
Major Sponsors donate $500 and Associate Sponsors donate $100.
"This is a very giving group and many of them have been sponsors of The Rotary Club Duck Race for many years," Thompson said. "We truly thank them and appreciate their continued support."
To adopt a duck or a flock, visit epduckrace.org/adopt-ducks/ then choose a participating charitable or nonprofit organization from the list shown. Each organization and its work is described by a brief summary. Whichever Organization(s) the adopter selects will receive $19 of every $22 duck adoption fee paid. Quack Packs are also available (buy 5 and get a 6th duck free).
Thank You 2022 Major Sponsors
---
Thank You 2022 Major In-Kind Sponsors
---
Thank You 2022 Associate Sponsors
---
Thank You 2022 Associate In-Kind Sponsors