New 2020 Race Date! Saturday, September 19th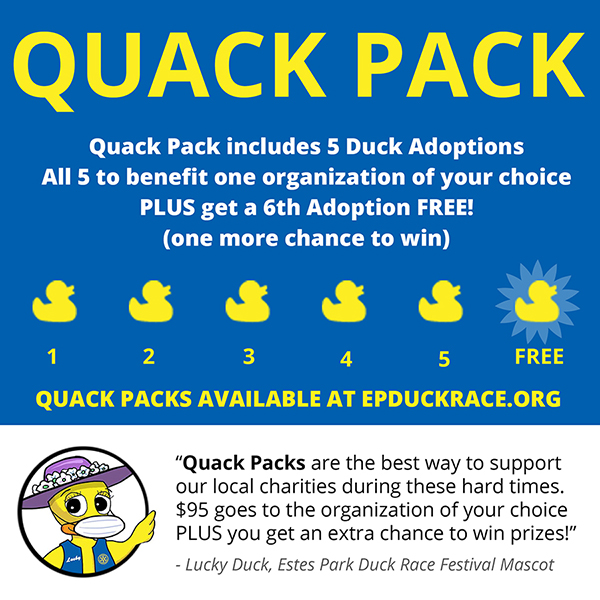 Yellow ducks ready to race to the finish line Sept. 19
Quack Packs offer incentive for online duck adopters
The 2020 Estes Park Duck Race Festival, and everything else about 2020, will be memorable. For the first time in its 32-year history, thousands of little yellow plastic ducks are patiently waiting to hear if they will get their feathers wet in the Fall River on Saturday, Sept. 19, or race down a "virtual" river.
The decision to proceed with a live or virtual option will be made in early September, according to 2020 "Big Duck" Karen Thompson.
"We are prepared to offer an exciting event, whether it will be our traditional Duck Race or an online race," she said. "We will make our decision in early September, based on COVID-19 restrictions and guidance from the Town of Estes Park and Larimer County. The health and safety of our community will guide the decision."
Thompson stresses that hundreds of prizes, including cash awards, vacation stays and gift cards to Estes Park businesses, will be awarded, whether listed on prize boards outside the Wheel Bar or posted on the Duck Race website. She hopes the 2020 Estes Park Duck Race will provide a welcome break from months of pandemic stress and a chance to support 67 Participating Organizations that desperately need the financial boost that the race provides. For each duck adopted, $19 goes to the selected Participating Organization.
All duck adoptions are occurring online to ensure the safety of volunteers and representatives of Participating Organizations. To encourage adoptions in the next three months, the Duck Race Committee has developed an incentive for those who plan to adopt five feathered swimmers.
"Our Quack Pack will give one extra duck in the race for every five paid adoptions," Thompson explained. "That's six ducks for the price of five!"
The Quack Pack is available at epduckrace.org and at a cost of $110, which includes a $2 per duck service fee for online sales support.
Thompson encourages Participating Organizations to market the Quack Pack, as a purchase will send $95 to the selected organization and six chances to win a prize.
"Our 67 Participating Organizations need our community's support right now more than ever as they face budgetary challenges that impact their delivery of critical services," said Larry Williams, Duck Race Organizations Committee Chair.
So, as the Duck Race Committee loves to say, "Let's get quacking!" and adopt some ducks.