Duck Waddle registration open to all Rotary Duck Race fans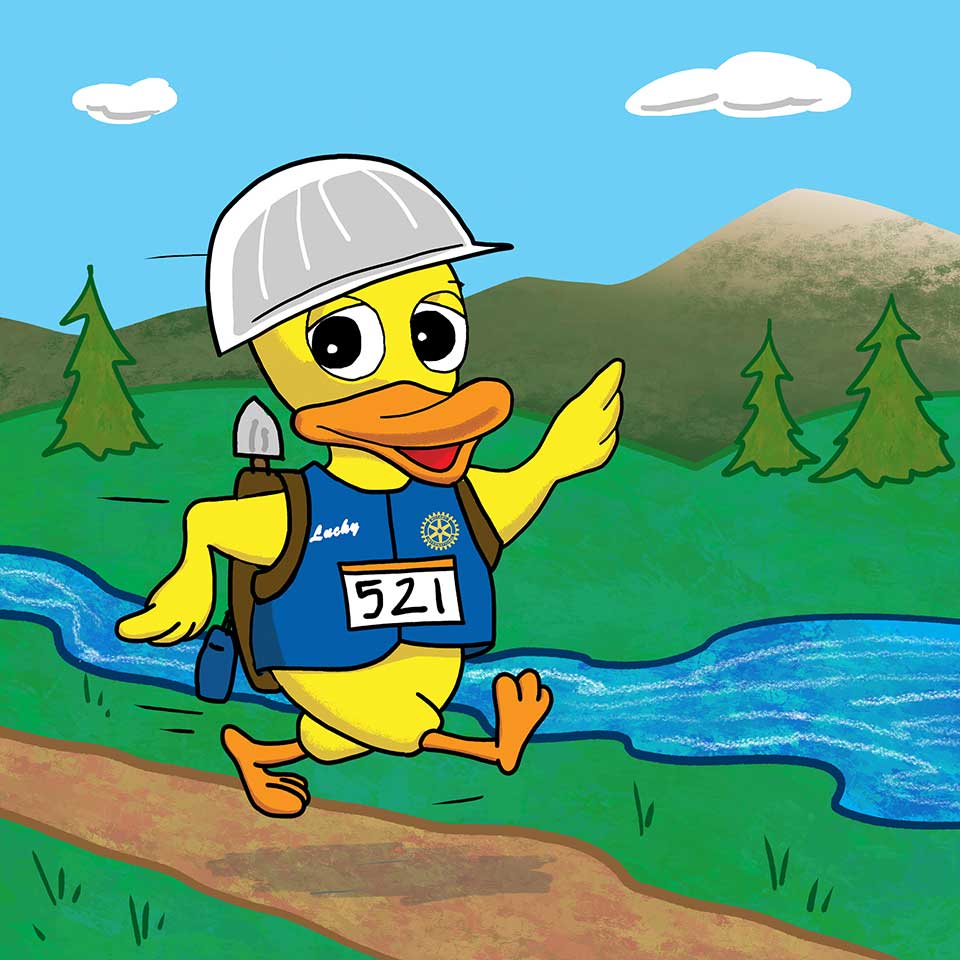 While the Rotary Duck Race will be conducted without the traditional riverside crowds this year, there is a big way for everyone to get Race Day off to a healthy and fun start. Sign up for the Duck Waddle 5K and get your feet moving at 9 a.m. on Saturday, May 1.
The event is sponsored by the Estes Park Running Club, and after having to cancel the 2020 Duck Waddle, planners are more than excited to offer it this year. Safety precautions will be in place, so it's best to plan ahead for the Duck Waddle. The race begins and ends in Bond Park and the route includes a scenic trek along MacGregor Ave., Big Thompson Ave. and Fall River Rd.
Here's what you can do to ensure a place in the starting line:
Go to https://estesparkrunning.org/our-races/duck-waddle-5k/ and register. Late registration is April 26 – May 1, with a $7 increase to the entry fee. In-person registration available, 8 a.m. to 8:45 a.m. on Race Day.
Adult registration is $30 and includes a Duck Adoption (value $20) and "Firefighter Duck" shirt ($5 added).
Seniors (60 and up) registration is $25 and includes a Duck Adoption (value $20) and "Firefighter Duck" shirt ($5 added).
Youth 14 and under will be charged $25.
Pick up your packet between 8 a.m. and 4 p.m. on April 30 at Med-X of Estes Park, 158 First St. OR in Bond Park on Race Day beginning at 8 a.m.
All participants must observe social distancing guidelines and wear a mask at all times, except while running.
"We want to have a safe and fun race for everyone!" said Belle Morris, Estes Park Running Club President and Race Director. "Join us by following our Social Contract agreement for COVID-19 precautions. All participants are asked to wear a face mask at all times, with exception while running or walking during race. Social distancing at the start line and at the separate finish line is expected. A time-trial interval start, of 3-second spacing, will allow participants adequate spacing."
A special commemorative race shirt will be available to the public for purchase on Race Day for $20, Morris added.
Following the Duck Waddle 5K, top finishers will receive awards and prizes. These include 1st and 2nd place male and female overall. Additional awards will be presented to 1st and 2nd place, male and female, in the following categories: 13 and under; 14-16; 17-19; 20-29; 30-39; 40-49; 50-59; 60-69; 70-79; and over 80.
A highlight of the Duck Waddle is getting a Duck Adoption in your name, and the chance to win a prize. Top prizes this year include two vacation packages donated by Delaware North and cash awards of $5,000, $2,500 or $1,000.
The Estes Park Running Club encourages Duck Waddlers to adopt additional ducks at https://www.epduckrace.org/adopt-ducks/. The running club is one of 65 Participating Organizations in the 2021 Rotary Duck Race. For each adopted, $19 will be returned to the Participating Organization that the Duck Adopter chooses.
"The Estes Park Running Club provides their unique and challenging schedule to all of our runners," said 'Big Duck '21' Bill Solms. "Their participation in our Duck Race Festival in this unusual year shows their individual caring and dedication to our cause of raising support and directing attention towards all of our non-profits in the Estes Valley! Please join them in their special Duck Waddle this year by running in the race and/or by adopting one of their racing ducks."