2022 Adoptions Coming Soon!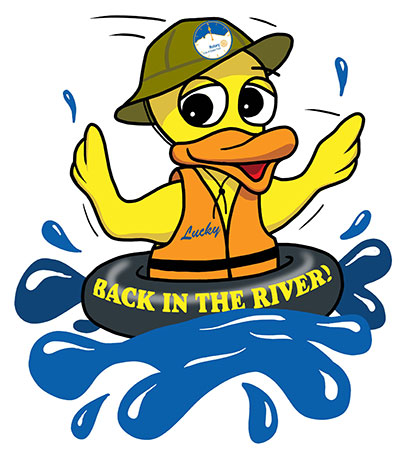 2022's race theme is "back in the river" and we're SO excited that it is so!
Get excited to support your favorite Estes Park non-profit with a duck adoption! Besides the fun of race day, you stand to win some incredible prizes!
The 2022 Duck Race will feature three major cash prizes and two three-night vacation stay packages with accommodations.
– Grand Prize $8,000 cash
– Second Prize: $5,000 cash
– Third Prize: $2,000 cash
– Two vacation stays:
Vacation Stays:
1)Three-night stay for two in a suite at The Pine Lodge in Whitefish, Montana, located on the doorstep of majestic Glacier National Park. The resort offers comfortable year-round accommodations for guests traveling through Whitefish, Montana. This facility is situated alongside the Whitefish River, with many rooms boasting views of the surrounding mountain tops. Glacier National Park is a mere 25 miles away, offering an abundance of recreational opportunities. The package includes access to all amenities: continental breakfast, stand-up paddle boards, kayaks, bicycles, and a guided trip to Glacier National Park, including park entrance fees.
2)Three-night stay for two in a one bedroom/one bath Old Faithful Cabin in West Yellowstone, Montana. Clustered in five camp settings, this 50-cabin property provides a sense of community without compromising privacy. Old Faithful Cabin is minutes from the Park's West Entrance and a short drive from Old Faithful. The package includes an all-day guided interpretive tour to Old Faithful Geyser in Yellowstone National Park (choice of bus tour in summer or snow coach tour in winter), park entrance fees, box lunches, and dinner for two at the Branch Restaurant & Bar.
Vacation stays were generously donated by Delaware North Parks and Resorts, parent company of The Ridgeline Hotel.
Adoptions begin March 3rd at 6pm.